FILA and Staple's New Capsule Collection Debuts 3.15.17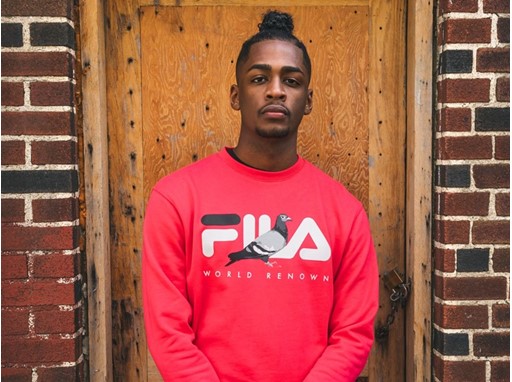 (FILA Global) - FILA and Staple Pigeon have teamed up for the Spring 17 season, this time on an international level. The companies are set to unveil a new capsule collection on March 15, 2017, available at premium international FILA flagship stores and select top tier global retailers. Similar to last year's collaborative release, the capsule will include a range of apparel and footwear styles. Pieces were designed to combine classic FILA silhouettes with Staple's signature graphic eye, for a collection that seamlessly merges elements associated with both brands.
The Spring 17 offerings fuse NYC-based Staple's influence in street and sneaker culture, with FILA's heritage in fashion and sport. On the apparel side, the collection consists of graphic tees, long sleeve shirts, pique polo shirts, velour sweat suits, shorts, and windbreakers. The hooded tees and scalloped hems combine a penchant for sportswear and street style. Additional design details include color blocking, stripes and camo prints, in keeping with the line's black, white, gray and pigeon pink color palette. Pieces also feature FILA's co-branded patches, which identify both brands and have been used for decades specifically for pinnacle collaborations and collections.
The footwear component of the capsule collection features the F-13 and Original Fitness silhouettes in multiple colorways. Both styles were designed with a full grain leather and suede combo upper. The shoes also feature the two-tone FILA flag, bearing the same combination of materials. In addition, the footwear designs share customized product details such as a dual branded, embroidered tongue patch, sock liner, printed footbed, and branded lace tips.
"FILA represented to me the perfect marriage of luxury with attitude. As I grew up, and Hip-Hop was infused into my DNA; it was fitting to see my lyrical heroes show love to FILA as well. Now, decades later, it is an honor that I've come full circle and am now able to collaborate with that same brand and bring the aesthetic I've created at Staple Pigeon to the table. FILA x Staple has been a long time coming. Love All." Jeff Staple, Founder of Staple Pigeon
ABOUT FILA:
From its humble beginnings in Biella, Italy in 1911 to its historic introduction of color on the tennis court in the 1970s, FILA has always remained committed to making a statement about individuality, power, and style through product that is both novel in aesthetic and effective in function. While the brand's offerings were originally intended for those defiant of expectations in sport, it was only natural that limit-challengers and subculture creators everywhere would soon recognize FILA as an aspirational beacon. After 35 years of paving the way in "sport-style," FILA continues to inspire new generations with modern looks crafted from its DNA – a game changing heritage both on and off the court.
ABOUT STAPLE PIGEON:
NYC based, Staple, was founded by Jeff Staple in 1997. What started as a fledgling business selling silkscreened t-shirts has grown into a full lifestyle menswear collection mixing street sensibilities with nods to high fashion. The Staple Pigeon is now a world- renowned symbol that reflects the gritty and reckless energy New Yorkers (and all urban dwellers) possess. It not only exists as a representation of New York – it is also the influence behind Staple's extensive apparel range and collaborative products distributed in the top retailers across the globe. For more information, visit
http://staplepigeon.com.
​​