FILA Golf's New Down Jacket is Anything but Sub-Par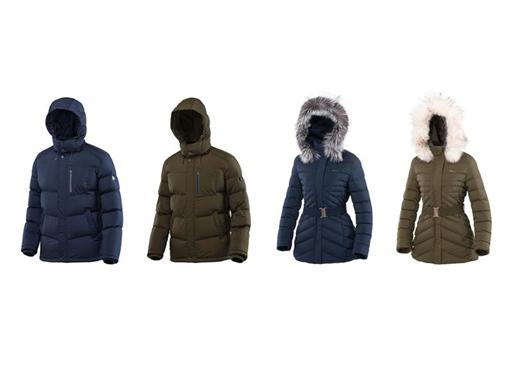 (FILA Global) –
Perhaps you are one of those golfers who cannot be dissuaded from making it to the green, even in the midst of a frigid winter. If so, you know that finding the appropriate clothing to fit both the weather and the clubhouse requirements can sometimes be a challenge. Luckily, the new Stretch Down Jacket from FILA Golf has got you covered in both arenas, making it the perfect addition to your winter wardrobe. 
The Stretch Down Jacket was specifically designed with golfers in mind. Its goose down filling is enveloped by a soft stretch material, offering wearers a high degree of thermal retention while remaining accommodating to even the most exaggerated golf swings. What's more – with a 9:1 proportion of soft hairs to feathers, the Stretch Down Jacket manages to offer the heat retention needed for the winter months without being heavy and restricting. This proportion was deliberately achieved to avoid the common problem of "falling fur" experienced in many down jacket models. A source from FILA Golf​​ has stated, "There needs to be consideration and provisions made for the active movement of the body during the winter golf season. It is then critically important to select apparel that has great insulating functions, and can be used for various activities."
Available in both men's and women's designs, the Stretch Down Jacket offer both practical and sophisticated design elements. The men's jacket "stretch swing down" slightly covers the bottom of the hip, offering full protection against the cold without being too cumbersome. The jacket also incorporates a removable hood. The women's jacket was designed to complement the female silhouette, incorporating a beautiful diagonal quilting line to accentuate the waistline. The jacket also offers a removable fur hood for added warmth and sophistication. Women's models are available in khaki (with a bleached white raccoon fur hood), and navy (with a silver fox fur hood).
The Stretch Down jackets are available in navy and khaki models. The jacket is priced at ₩698,000 for the men's, and ₩780,000 for the women's. Not a golfer? Not a problem. As stated by the same FILA Golf source, "The potential wearing of the outfit on the field is a given. Additionally, it allows for the possibility of wear as a part of everyday casual activity and other diverse wear."