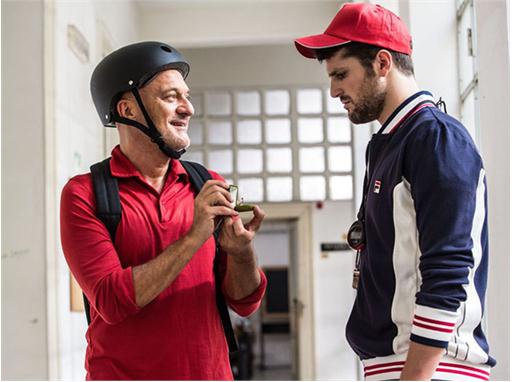 (FILA Italy) --
The FILA brand has a long history in cinema, and the sportswear company has recently added another film to its repertoire, which already includes hits such as The Royal Tenenbaums (Anderson, 2001) and The Firm (Love, 2009). Fans of the brand can now catch glimpses of FILA's famous vintage collection in Alessandro Genovesi's newest release, Ma che bella sorpresa (Genovesi, 2015), starring Claudio Bisio, Renato Pozzetto, Ornella Vanoni and Frank Matano. 
FILA made its cinematic debut in 1975 in Mariano Laurenti's Italian comedy, Il vizio di famiglia (Laurenti, 1975), where it was worn by actress Edwige Fenech in a number of scenes throughout the film. Three years later, the brand was worn by actor Lino Banfi in another Laurenti film entitled, La liceale nella classe dei ripetenti (Laurenti, 1978).
In the years that followed, the FILA brand made its way to American television, where it was seen worn in shows such as The Six Million Dollar Man (1973), Different Strokes (1978), Will & Grace (1998), and 30 Rock (2006).
In 2001, FILA was worn by Luke Wilson in a few scenes of Wes Anderson's hit film, The Royal Tenenbaums. A decade later, Oscar-winning actor, Robert De Niro, donned FILA apparel in a handful of scenes in mafia flick, The Family (Besson, 2013). 
Ma che bella sorpresa hit Italian theatres this past spring and will be released on DVD this July.