FILA Korea Golfer Jung-Min Lee Dominates KLPGA World Championship
Jung-Min Lee, Golfer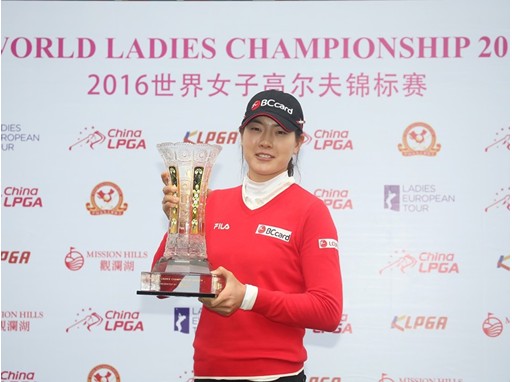 (FILA Korea) -
FILA Korea-sponsored golfer Jung-min Lee won a spectacular come-from-behind victory at the Korean's LPGA World Ladies Championship in China last week. This is the eighth career title for the young golfer, who currently holds a world ranking of no. 35. 
This was the first event of the World Ladies Championship to be organized in coalition by the Korean LPGA Tour (KLPGA) as well as the Ladies European Tour (LET) and China Ladies Tour (China LPGA).  In an extremely close and exciting match, Lee cruised to a narrow victory over her competitors, beating Lee Seung-Hyun, Kim Bo-Kyung, and Ji Han Sol by just one stroke, and setting the tone for an exciting season ahead.
FILA Korea has been the official apparel sponsor of Jung-min Lee since January 2015, and is excited to continue their sponsorship through the 2016 season. In addition to Lee, FILA Korea also sponsors fellow LPGA players So-yeon Ryu, Jenny-shin and Julie Yang. As part of their agreement, each athletes is provided with custom apparel, specifically tailored to style preferences and build.
For more information about FILA's sponsorships, please visit FILA's official corporate website​, or check out FILA Korea's Facebook​ and Instagram​ pages for information and photos.