FILA China and Jason Wu Collaborate for SS 2016 Collection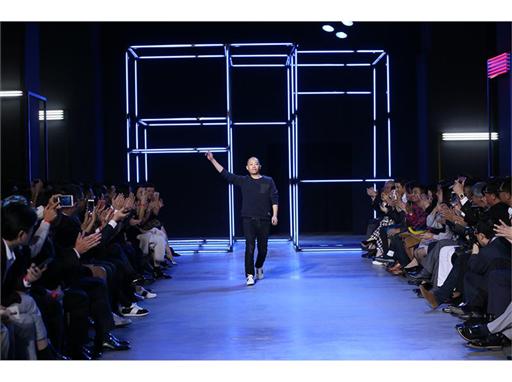 (FILA China) -- 
On November 26, 2015, FILA, a centurial Italian brand of everyday fashion clothes, and Jason Wu, a famous fashion designer, held a grand feast to release their new high fashion sportswear series, "JASON WU X FILA" in Artistree, Taikoo Place, Hong Kong. Shu Qi, the brand spokesperson of FILA, Yang Yang, a popular young actor, Stephanie Lee, a Korean supermodel and actress, Li Hui, a well-known fashion curator, and Bryan Boy, Jason Wu's sincere friend and a prominent blogger, attended the fashion show and witnessed the release of "JASON WU X FILA" high fashion sportswear with hundreds of attendees.
On that evening, the spokesperson Shu Qi wore a dark blue JASON WU X FILA trench coat over a polo shirt with a black zipper and an A-line color-block dress. Mr. Yang Yang was in a beige JASON WU X FILA trench coat, matched with a black polo shirt, a pair of black trousers and black-and-white sport shoes, attracting female fans' great cheers when he stepped on the red carpet. Stephanie Lee​, tall and slim, chose a half-turtleneck color-block vest dress. The simple shape and fit tailoring matched Stephanie Lee well and showed a modern style of simpleness and vitality.
In addition to these superstars, JASON WU X FILA Fashion Show also saw the best models in the world giving a splendid and unique fashion feast. When the vigorous music and light show began, supermodel Alicia Tubilewicz appeared in a spacesuit with the number "1973", getting the first show co-launched by Jason Wu and FILA started. Since FILA started to lead the fashion of sportswear in 1973, Jason Wu introduced FILA's Italian style back in the important 1973 into his design to show his respect for FILA's classic design by bravely using the hyperbolic number. Chiharu Okunugi, the favorite model of well-known brands, was in a black dress with irregular and asymmetric design that was cute and fashion, showing great vitality. Sofia Tesmenitskaya, the beloved girl of the advertisers, was in a dress inspired by Italian newspapers in 1940s. The neat tailoring and the collision of color blocks and newspapers reflected the classic Italian style. Yumi Lambert and Zhao Lei, two international supermodels, not only stared the advertisement of JASON WU X FILA, but also gave a show during the feast. Li Jingwen, a new Oriental model, also perfectly displayed the charm of several high fashion sports suits. As the show reached its height, Jason Wu appeared and acknowledged the applause, thanking hundreds of attendees for their coming and witnessing the debut of this series of high fashion sportswear.
It is worth mentioning that Jason Wu is not only the designer of FILA's new series, but [was] also the designer of this perfect fashion show. The smooth and tidy arrangement of lines and the use of FILA's DNA colors in lighting formed a simple, succinct, dynamic fashion stage ahead of the time. The curators of this fashion show are internationally well-known teams from Paris, New York and Tokyo. JASON WU X FILA represents the cross-boundary fusion of high fashion, elegancy and vitality. Jason Wu, as the designer, labeled this series as "simpleness, practicability and elegancy". The inspiration of 2016 spring & summer series came from Italy. Jason Wu deconstructed and reconstructed different fashion elements of Italy, including newspapers in 1940s, classic tennis, large color blocks and the year 1973, forming a unique series of fashionable sportswear. With his great sense of tailoring haute couture, Jason Wu showed FILA's classic & elegant style in the fluent and simple lines from the hands of accurate and delicate tailors, and FILA's youth and vitality with the collision of contrasting bright colors and fabric. The material is excellent, as always seen on FILA products. The frequent use of upscale tender cotton cloth ensures that the clothes are neat, smooth and amazingly comfortable, even in perfect shape during exercise.
The cross-boundary cooperation on JASON WU x FILA indicates the integration of fashion and sports, which is also the main trend of fashion development. Jason Wu cleverly introduced high-end design into everyday casual clothes, added individuality and fashion into elegant and classic design, and formed a completely novel series of fashion clothes. He showed the unique Italian style of FILA by integrating elegancy and vitality.
About FILA:
In 1911, Fila brothers initiated FILA in Biella, a small Italian town. At that time, FILA was only an enterprise spinning and knitting clothes. Now, it is a centurial brand of everyday fashion clothes. In the 1970s, in order to develop in a diversified way, FILA started to produce sportswear, and successively released products for tennis players, golfers, exercisers, skiers, mountain climbers, basketball players, etc. Today, following the brand conception of "positiveness, endeavouring and never giving up", FILA overturns the traditional image of sportswear, and conveys the centurial enthusiasm and vitality in its novel image as an everyday fashion brand. Elegant and simple casual clothes are comfort and beautiful; supreme material and tailoring are outstanding and internationally well-known. The vertical stripes, in particular, are the soul of FILA design. FILA products are now sold in over 30 countries including Italy, UK, Germany, France, USA, Japan, Korea, Brazil and Russia.
In recent years, FILA continuously released products of different styles, such as fashion & casual series, vitality & exercise series and family series. For designing spring and summer series of 2016, FILA started to collaborate with Jason Wu. The collision of centurial Italian elegancy and high fashion marked the start of high fashion sportswear.
About Jason Wu:
Wu Jigang (Jason Wu), is a famous designer of Chinese origin in New York. He was born in 1983 in a rich family in Taiwan. Jason Wu showed his talent in designing when he was young and then became a fashion designer spontaneously. Jason Wu had studied sculpture in Tokyo, lived in Canada and France, and then studied at the Parsons the New School for Design in New York. When he graduated, he found a job in the studio of the well-prominent designer Narciso Rodriguez. In February 2006, Jason Wu released his first individual series in New York, and soon won the recognition of critics and buyers, becoming one of the youngest and best designers in New York. Jason Wu is popular with the First Lady who was in the clothes designed by him in many events. Jason Wu is also the design director of many premium brands in the world. Due to his outstanding design and good relationship in the fashion world, Jason Wu is affectionately known as "the light of Taiwan"
For more information, please contact:
Butterfly Integrated Communications Group
Cloris Chen
Email:
cloris.chen@bicgfashion.com
Tel: +86-21-64669191*806
FILA China
Cherry Yang
Email:
Cherry.Yang@fila-china.com.cn
Tel: +86-0592-3518110