FILA Korea's Hot New Summer Shoe has Us Longing for "Bermuda, Beach, Bikini"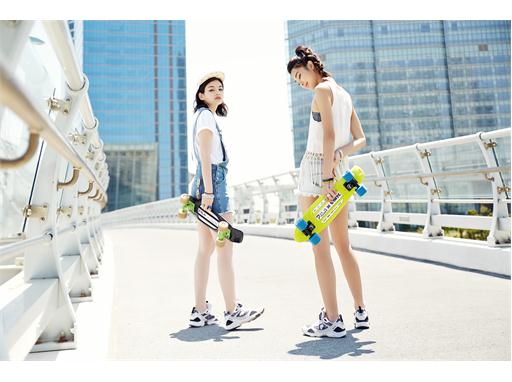 (FILA Korea) –
In preparation for the hot summer months, FILA Korea recently launched "BBB" – a new line of lifestyle footwear characterized by bright designs and permeable fabrics. Specifically designed for better breathability for its users, this hybrid casual-jogger shoe is built with mesh materials, which allow for improved ventilation and an overall "cooler" feeling.
"BBB" is FILA Korea's summer version of their "Bermuda" lifestyle shoe, which launched at the beginning of this year. Short for "Bermuda, Beach, Bikini" (some of the key inspiration elements for this collection), the "BBB" collection utilizes bright prints and see-through materials to add a seasonal aspect to the shoes. The collection has been a best-seller since its release, with customers actively responding to the shoe's thoughtful and functional design.
In tandem with BBB's launch, FILA Korea also released the "Bermuda School Promotion," a social networking campaign that was used to communicate with the younger consumer base. One of the focal points of this campaign was the use of cruiser boards – a popular product among teenagers during the summer season. As part of its campaign, FILA Korea partnered up with STEREO, a popular cruiser board brand, to create custom boards for its promotional imagery. The resulting photography and videography used in the "Bermuda School" promotion are both dynamic and fashionable, suggesting a healthy and stylish approach to summer fashion.  
The "BBB" shoes are available for retail in Korea, and online at fila.co.kr. The women's "BBB" collection is available in mint and coral. A unisex style is also available in black.