FILA Korea Launches "FILA BUCKET LIST" Social Campaign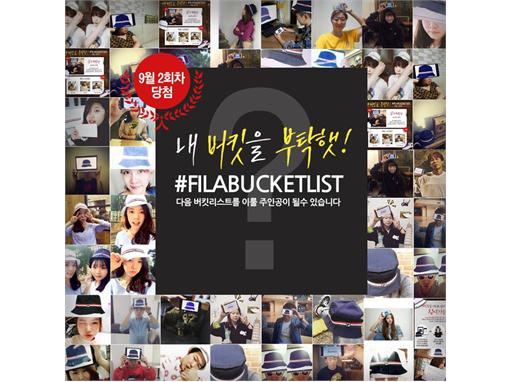 (FILA Korea) –
There's no time like the present, and FILA Korea is here to help give you a little push. This fall, FILA Korea invites you to join in their newest social media campaign, entitled "FILA Bucket List​," and chase those dreams you've so been longing to achieve.
Coordinated to coincide with the launch of FILA's Fall/Winter 2015 Heritage collection, the bucket list campaign utilizes the brand's iconic bucket hat to encourage participation in FILA's philanthropic endeavors. In order to participate in the campaign, Instagram users are encouraged to upload a photo of themselves wearing the FILA bucket hat with an accompanying caption that outlines a dream that they wish to accomplish. All users must utilize #FILABUCKETLIST somewhere in their description. There will be a direct correlation between the number of relevant posts that users upload, and the amount that FILA Korea will set-aside in donations.
At the end of the campaign, one grand prize winner will receive the  "Dreams Prize" of ₩500,000 to help spur the fulfillment of his or her bucket list item. Three runner-ups will receive the the "Style Prize" of Heritage sneakers, and twenty-five additional winners of the "Sense Prize" and "Cheering Prize" will receive coupons for drinks and snacks. 
In addition to being an active and charitable campaign, FILA hopes that this social movement will encourage people to set out to fulfill the dreams they have on their bucket lists. The campaign will run from 7 September to 31 October 2015.