FILA Argentina to Host 7th Annual 10k in Buenos Aires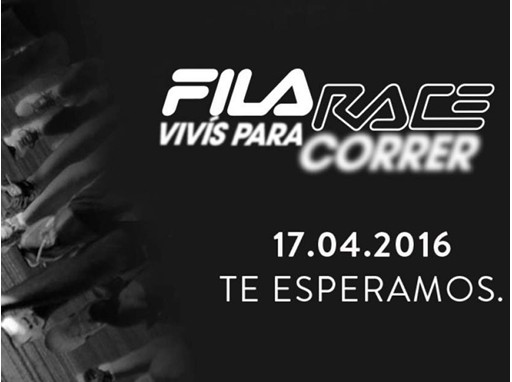 (FILA Argentina) – With a theme of "Live to Run," the annual FILA Race will double as a charity event to support three non-profit organizations in Argentina, as well as a promotional event for FILA's new Kenya Racer 3 running shoe.  
This Sunday, 17 April 2016, FILA Argentina will host its 7th annual 10k FILA Race on the streets of Buenos Aires, Argentina. The circuit will start and finish at the Parque Micaela Bastida, taking a scenic route through the heart of Puerto Madero before concluding in a vendor area lined with music, activities, and some retailers. Fans of FILA will have the opportunity to purchase products from the brand's new collections at the FILA CENTER booth.
Similar to previous years, a percentage of the proceeds from this year's FILA Race will be donated to three non-profit organizations in Argentina including the Hospice San Camilo, ASEMCO, and Granos de Mostaza. Participants will have the opportunity to direct their donations at the time of registration. Last year​'s FILA Race drew over 10,000 runners and participants to the streets of Puerto Madero. FILA hopes to continue the momentum this year, and will be on-hand at the event to offer support and encouragement to all participants. 
Sign ups for the FILA Race are currently taking place online​. Each participant must be ready to provide a health certificate or sporting license as proof of medical fitness before participating in the event. All race participants will receive official FILA Race shirts, a time chip, as well as small gifts from event sponsors. Additional prizes will be awarded to race winners.
For more information on the FILA Race, please visit the event's official page at www.fila.com.ar/race. On the day of the event, follow along Twitter​ and Instagram​ using tags #FilaRace2016 and #vivisparacorrer. The race is scheduled to begin at 8:30AM at the intersection of Julieta Lanteri St. and Rosario Vera Penaloza St.
Additional Press Information:
For inquiries specific to the FILA Argentina brand, please contact Público Press Group: 
María Florencia Naveiro Pose
Florencia.naveiro@publicopressgroup.com
Telephone: 54 9 11 6790 2374
For inquiries specific to the FILA 10k Race, please contact FILA Argentina:
Carmen Ochoa
Prensa@fila.com.ar 
Telephone: 54 9 11 2319 9881
About FILA Argentina:
FILA is one of the leading brands in apparel manufacturing, sport and urban footwear. Founded in 1911, the brand is internationally recognized for its critical role in the design and development for tennis and running products. FILA Argentina is currently operated under the DASS Group.
About DASS GROUP:
Founded in 1968, the DASS Group is one of the largest manufacturers and exporters of sports equipment in Latin America. Headquartered in Jardim Paulistano, Brazil, DASS has operational units in Argentina, Brazil, Mexico, and Peru as well as distributors in Bolivia, Chile, Colombia, Ecuador, Panama, Paraguay, Uruguay, Venezuela and Central America. 100% of items produced by DASS are of national production.