FILA Running Team at the XXI São Paulo International Marathon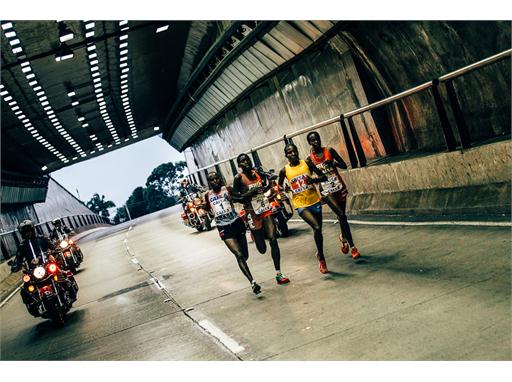 (FILA Brazil) --
The FILA Running Team was present and had prominence at the XXI São Paulo International Marathon, which took place on May 17. The team relied on the Kenyan athletes Paul Kios Kangogo and Samuel Kimutai Kiptum at the male circuit, while Jane Jelagat Seurey and Carolyne Chemutai Komen participated in the female circuit. The team also had the great athletes Jaciel Antonio Paulino and Carlos Neves in the wheelchair category.
The competition, which had more than 15 thousand participants, began in Ibirapuera Park. The first start was for wheelchair athletes at 6h50; the female elite at 6h55; male, at 7h30, followed by premium and general squads. The race was divided into four modes: marathon (42, 1 km), 15 miles (24.140m), 5 miles (8.047m) and 2-mile walk (3.212m).
The FILA brand has participated in the running events since 1993 and has supported its Kenyan athletes throughout its 22 year involvement. The Kenyan athletes hold all of the main records in the running category. They train on Brazilian soil at the House Kenya Training Center, located in Nova Santa Bárbara, North Paraná, under the guidance of renowned coach Moacir Marconi, who is also known as "Coquinho".
Results of the XXI São Paulo International Marathon:
Male
1) Asbel Kipsang (Kenya), 2h15min15sec
2) Vagner Noronha (Brazil), 2h20min14sec
3) Samuel Kiptum (Kenya), 2h21min04sec
4) Giomar da Silva (Brazil), 2h22min07sec
5) Edson Amaro dos Santos (Brazil), 2h24min48sec
Female
1) Carolyne Komen (Kenya), 2h35min51sec
2) Rumokol Chepkanan (Kenya), 2h37min28sec
3) Jane Jelagat Seurey (Kenya), 2h39min02sec
4) Graciete Santana (Brazil), 2h46min20sec
5) Marizete Moreira dos Santos (Brazil), 2h49min36sec
Wheelchair
Male
1) Fernando Aranha Rocha (Brazil), 2h03min18sec
2) Heitor Mariano dos Santos (Brazil), 2h09min22sec
3) Jaciel Paulino (Brazil), 2h17min32sec
4) Evaldo de Souza (Brazil), 2h23min27sec
Female
1) Aline dos Santos Rocha (Brazil), 2h18min10sec
2) Maria de Fátima Chaves (Brazil), 2h32min21sec
Press information:
APPROACH COMUNICAÇÃO INTEGRADA
André Mendes
(11) 3846-5787 r. 43 | (11) 9 8254-9088
andre.mendes@approach.com.br
João Carlos Godoy
joao.godoy@approach.com.br
(11) 3846-5787 r. 46 | (11) 9 6327-5781